HOME | PRODUCTS & SOLUTIONS | MACHINERY |
Horizontal Cartoner SC 5
(up to 200 cartons/min.)
This compact SC 5 series cartoning machine has been specially developed for applications in the pharmaceutical and cosmetics industry, in the lower and middle output range of up to 200 cartons/min.
The modular structure of this cartoning machine makes it possible to install additional functions later, thereby guaranteeing easy adaptation to changing packaging processes. Intermittent or continuous working principle. Positive carton opening with counter suction cups and erection kinematics.
Options: All the specified standard and special functions are possible.
ADVANTAGES
Design and function that meet the standards of the pharmaceutical industry
Short, space-saving build size
Easy, predominantly tool-free format change
Servo-drive technology
Central touchscreen with 3D visualization
Optimum accessibility for cleaning and maintenance
Can be connected to the SCADA line control system
Track and trace technology
Product labeling and monitoring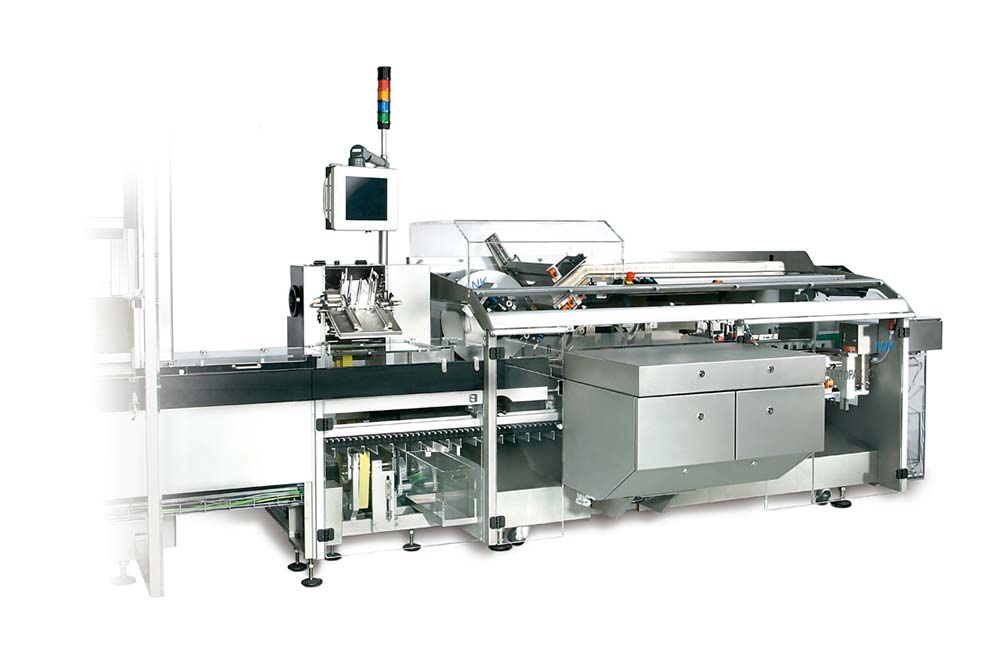 TECHNICAL DATA
TYPE
SC 5
Working principle
Continuous
Format range (mm)
(4 carton chains)
A: 20-100
B: 15-100
H: 65-230
Max. output (cartons/min.)
200
APPLICATIONS
IWK cartoning machines are predominantly used for the cartoning of products from the pharmaceutical and cosmetics industries. Products can be packaged in cartons individually, or as a multipack with a package insert.
Products (also available in combination):
Tubes
Blisters
Vials
Ampules
Bags, sachets, pouches
Bottles, trays
Spoons
Cannulae
CARTON CHARACTERISTICS / CARTON QUALITIES:
IWK cartoning machines can be used to process material grades, in accordance with DIN 53121, with paper weights of 250 to 500 g/m²; recycling grade materials can also be used. Dimensions and tolerances of the pre-glued cartons should comply with DIN 55522.