HOME | PRODUCTS & SOLUTIONS | MACHINERY |
Topload Cartoning Machine IWK TL
PACKAGING MARVEL FOR THE HIGHEST DEMANDS
Individuality needs intelligence.
Particularly gentle and safe handling is indispensable for the packaging of medicines or medical technology. The product concentration, however, requires a high degree of flexibility of the machines in the packaging process. For such specific requirements, tailor-made high-performance technology is needed. Our solution: IWK TOPLOADER TL – a smart cartoning machine with its ability to adapt to a wide variety of processes and applications.
TOP ADVANTAGES OF THE IWK TOPLOADER TL
Economic. The IWK TL offers a reliable and safe processing of products.
Modular. The IWK TL can be configured and expanded easily.
Ecological. Sustainable packaging materials can be used.
Comfortable. Tool-free and mainly fully automatic format change.
Compact. Flexible packaging in narrow spaces (minimal "footprint").
FURTHER BENEFITS
Good accessibility and visibility from both sides
Easy and fast cleaning and Line Clearance due to e.g. the tabletop design
Adaptive, intelligent, and linear transport system
Track & Trace technology possible without a separate unit
Intuitive handling using the central touchscreen with 3D visualization
Product labelling, controls and an integrated checkweigher inside the machine
Packaging of various products (e.g. syringes, auto-injectors, applicators, diagnostic devices, inhalers, vials, ampules)
Future-proof investment in a durable, robust cartoner
LIVE VIDEO
SMART CARTONING IN THE PHARMACEUTICAL INDUSTRY.
PACKAGING PROCESS
HIGHEST FLEXIBILITY AND EFFICIENCY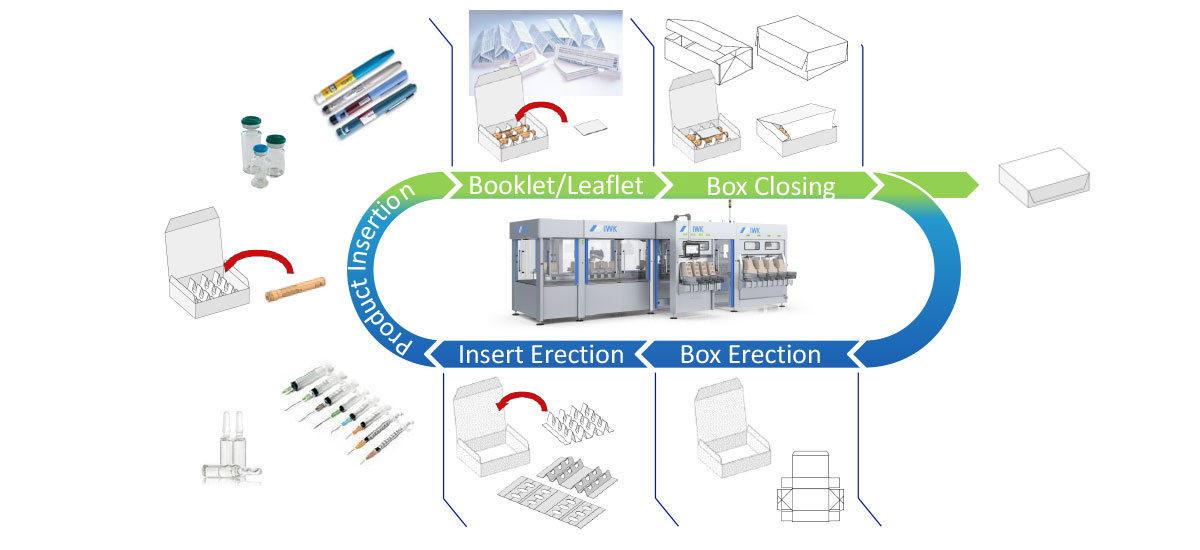 TECHNICAL DATA
TYP
IWK TOPLOADER TL
Working principle
Continuous/ intermittent
(depending on the requirement of the process stage)
Format range (mm) carton
Length A: 90-180
Width B: 50-150
Height H: 15-80
Blank (mm)
Length: up to 500
Width: up to 440
Other formats on request
Max. output (cartons/min.)
180
(depending on format size, machine equipment and quality of the packaging material)
Technical changes reserved
[qcld_hero id=12]
APPLICATIONS
IWK cartoning machines are predominantly used for the cartoning of products from the pharmaceutical and cosmetics industries. Products can be packaged in cartons individually, or as a multipack with a package insert.
Products (also in combinations):
Tubes
Blisters
Vials
Ampules
Bags, Sachets, Pouches
Bottles, Trays
Spoons
Cannula
CARTON CHARACTERISTICS / CARTON QUALITIES:
IWK cartoning machines can be used to process material grades, in accordance with DIN 53121, with paper weights of 250 to 500 g/m²; recycling grade materials can also be used. Dimensions and tolerances of the pre-glued cartons should comply with DIN 55222.